The organisers of the London International Horse Show, taking place from 13-19 December at ExCeL London, have announced another exciting addition to the LeMieux Masterclass Series – 'Driving Force' starring Hollywood stuntman Dan Naprous and YouTube star Tina Wallace.

Presented by Dan Naprous, a world-renowned horse trainer and stunt actor whose list of credits includes Game of Thrones, The Crown, Wonder Woman and the famous Lloyds Bank adverts, 'Driving Force' will take place in The New Horizon Plastics London Arena on Saturday 16 December. The masterclass is set to be an informative and exciting gallop through the thrilling sport of Carriage Driving, proving a 360-degree tour of training, tactics, and technique. Joining Naprous for the ride will be YouTube sensation, Tina Wallace – otherwise known as 'Life On The Left Rein' – who will be putting Dan's advice into action as she takes a turn at the reins.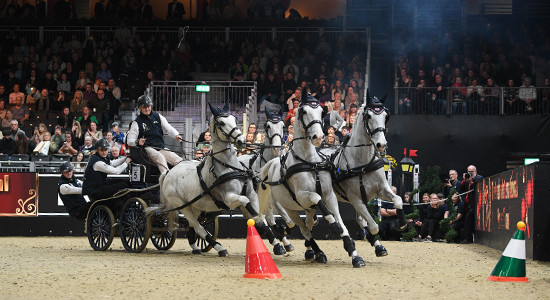 During this LeMieux Masterclass, Dan Naprous – Britain's No.1 Four-In-Hand Driver – will cover all bases surrounding the discipline of Carriage Driving, as well as the history behind it. Heavily influenced by His Royal Highness the late Prince Phillip, Duke of Edinburgh, Driving is a discipline steeped in tradition which requires skill, strength, and speed. Drivers are judged on their control of their horse or teams, their style, and their timing and accuracy around the cones and obstacles.
Naprous will begin by giving the audience an overview of the sport, before demonstrating the different phases of Carriage Driving trials. As he covers the basics of Driven Dressage, Cones and Obstacles, and the stages of getting horses fit for the Marathon phase, Tina Wallace will be on hand to learn – taking a turn on the backstep before finally being put to the test as she takes on a challenge under Dan's instruction. With over 130,000 subscribers following her videos on YouTube, Tina is no stranger to documenting her adventures with horses, and is looking forward to trying out a new discipline and showing how other keen equestrians can get involved.

Of the masterclass, Naprous said: "It's great to be bringing this LeMieux Masterclass to the London International Horse Show this year. Last year I not only drove in the FEI Driving World Cup™ classes at the Show, but led The Devil's Horsemen's display, as well as holding a stunt riding Masterclass with the Ebony Horse Club. This year, it's great to be able to bring the Carriage Driving to the fore, and show the audience exactly how a brilliant team is made – and perhaps inspire a few budding Carriage Drivers!"
Simon Brooks-Ward, Show Director, said: "We are thrilled to be offering this masterclass as part of the new LeMieux Masterclass series. Having a Driver and showman of Dan's calibre for our audience to learn from is a real honour, and we are hugely delighted to welcome Tina – who has been a great supporter of the show in recent years – into the spotlight. I have no doubt that they will deliver a masterclass that is not only informative, but engaging and interesting for our audience as well."