Travel, Parking & Accommodation
Travel By Train and Underground
ExCeL London has great connections to every corner of the capital and beyond. The new Elizabeth Line has a station on ExCeL's door and makes the Show very accessible. For example, travel from Bond Street station takes only 18 minutes and from Paddington is 22 minutes.
ExCeL London is also connected to London Underground and London Overground by DLR (Docklands Light Railway) which is a part of the London Underground network. The Jubilee Line and the DLR are connected to ExCeL London. Visitors to the Horse Show should alight at Custom House on the DLR. Trains pull up at a covered walkway leaving visitors with less than two minutes to walk to the entrance.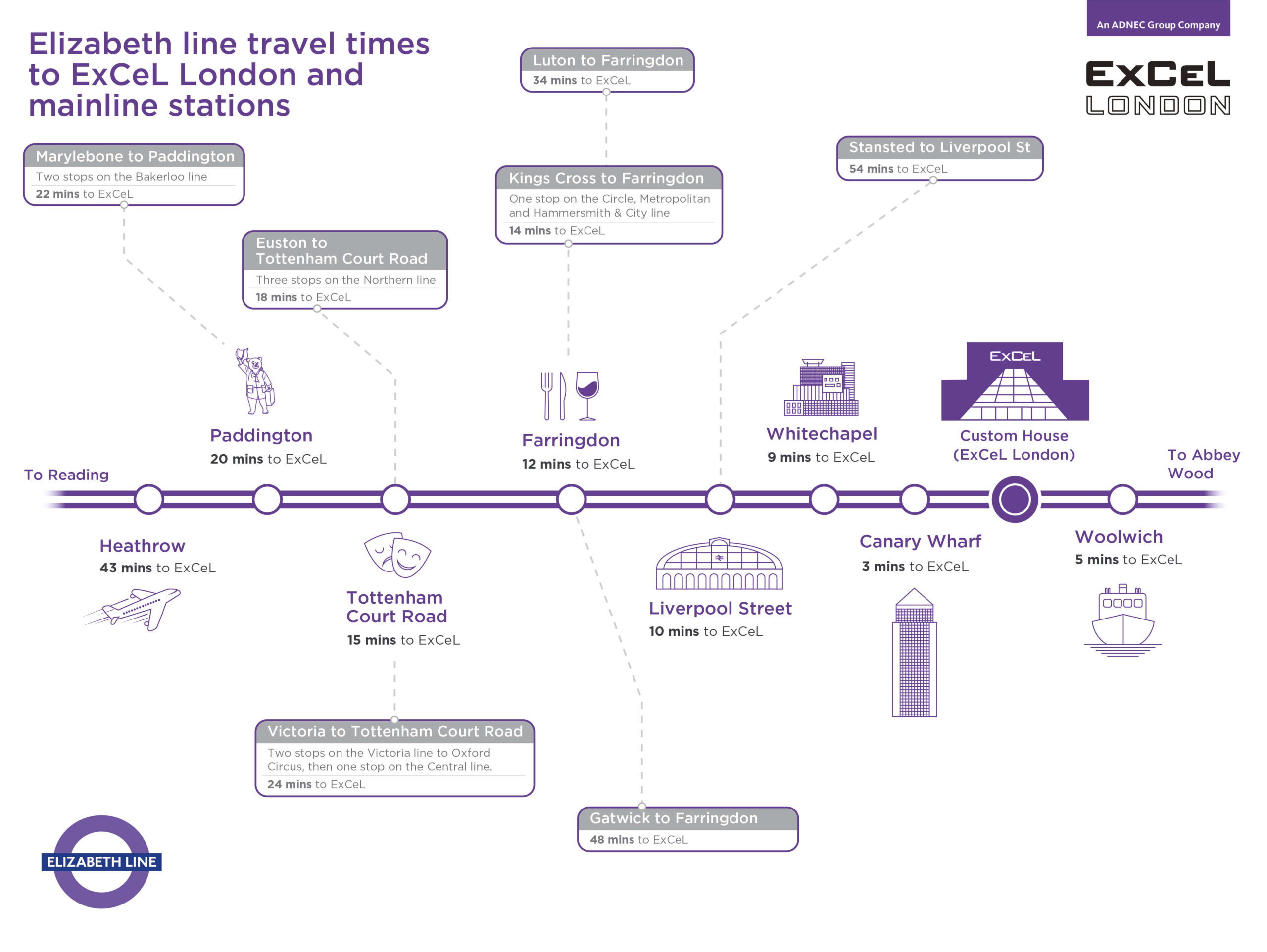 There are more than 1200 car parking spaces at ExCeL. The venue has introduced a new pre-paid Number Plate Recognition system. The cost is £25 for up to 24 hrs. The Horse Show has exclusive access to the car park during its open period and you must use a special ACCESS CODE when you book. The code is
EXCEL-LIHS23-75055782
. You must select your date and time of entry and departure and then enter the access code. Only then should you choose BOOK NOW. This will take you to a new page where you will be able to choose which type of parking you want and then on to the payment section.
Please visit the parking site here
.
Should the car parks become full there are car parks at Canary Wharf from where you can catch the Elizabeth Line or DLR to Custom House. Alternatively go to Westfield Stratford City and you can then travel to ExCeL via the DLR. Information is shown here:
Alternative car parks
If you're arriving via the M11, the North Circular (A406) or the A13, as you get closer to ExCeL you'll pick up signs for Royal Docks, City Airport and ExCeL London. If you're using satellite navigation please enter the postcodes below.
E16 1XL – if you are travelling from the West to ExCeL from Blackwall Tunnel, Limehouse Link, A12 or Central London.
E16 1FR – if you are travelling from the East to ExCeL from the M11, A13 or into London from the east.
My car is taller than 1.9 meters – where can I park or pre-book?
When you arrive on site please report to the traffic office, located on Sandstone Lane E16 1DR, where a member of staff will direct you to a parking place.
ExCeL London is located in very close proximity to London City Airport. All other London airports are well connected to the venue including Heathrow which is now connected by the newly opened Elizabeth Line.
Further information may be found here
.
ExCeL is connected by river services and the cable car. Event attendees can use the river services to North Greenwich Pier and the cable car to Royal Victoria – short walk from the west entrance.
The operating times are Thursday 7am to 9pm, Friday 7am to 11pm, Saturday 8am – 11pm, Sunday 9am to 9pm and Monday 7am to 9pm.
Adults are £5 for a one way and £10 for a round trip and children are £2.50 and £5.
The cable car can be boarded by using your contactless card, or oyster card. If people wish to purchase tickets with cash, there is a premium to pay (we advise to use contactless).
The cars arrive every 30 seconds and carry up to ten people. One way journeys take up to 10 minutes but vary according to passenger flow and weather conditions.