London International Horse Show, which runs from 13–18 December, is set to host an exciting addition to the 2023 programme; the finals of a brand-new Showing Series. Comprised of 20 classes, and held in the New Horizons Plastics London Arena, the finals will bring the rising stars of showing to the capital in time for Christmas. With only one more show remaining for competitors to qualify for the Finals, many combinations have now received their sought-after ticket to compete at one of Britain's most iconic and prestigious shows.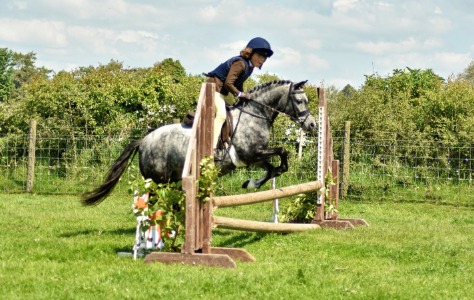 Louis Cure riding Dunaskin Tipple / Photo by 'Blue Lace Equine Photography'
One of the youngest riders who will be in action in December, will be eight-year-old Louis Cure and Dunaskin Tipple [Malteser] who have qualified for the Cradle Stakes final. The pair, who have only been together since March, have been growing in confidence throughout the season and will be ones to watch out for in the Finals. Louis commented on his pony, who is on loan from Eleanor Crate: "Malteser is such a fun pony and I love jumping her as much as she loves jumping!"
Combinations include Helen Jackson and her own Addien Toy Soldier who qualified at Prospect Farm. Addien Toy Solider is a 10-year-old Welsh gelding, who Helen has impressively produced since he was just three years old. The duo had to overcome adversity in 2019 when Addien Toy Solider contracted pneumonia and nearly lost his life – but with the care of vets and the love of Helen, the gelding, who Helen describes as "full of Welsh attitude" has made a full recovery.
Some truly inspirational stories have come from those who have qualified at their local shows, none more so than Zara Hayler. Zara, who won the BSPS Junior Performance class at Ryedale Show with her pony Sarum Remus, suffers from cerebral palsy, a disease that affects a person's ability to move and maintain balance and posture.
Another rider who has claimed her spot in the finals is Natalie Cooper with Carnsdale Constantine. As a single mother of three boys and a part-time long-haul flight attendant, Natalie had to put her equestrian dreams on hold, but three years ago, Rex [Carnsdale Constantine] – who she describes as her 'best friend' – came into her life. Together they have experienced success in numerous different disciplines, including the victory in the Rising Star Large Riding Horse at The Lawford Park Horse Show which secured their place for The London International Horse Show.
Siobhan Dallaway and Dream on Harry are another partnership heading to London. The skewbald gelding, who was rescued from by his previous owner, having been treated cruelly and suffered malnutrition. Now, together with Siobhan, he competes in Dressage, Show Jumping and Eventing. This is his second season in the show ring, and he has surpassed all expectations to qualify for London International Horse Show.
Organisers of the Show have worked with the British Show Pony Society (BSPS), the British Show Horse Association (BSHA), and the Association of Show and Agricultural Organisations (ASAO), to create a series that is designed to not only be more inclusive, involving competitors from a wide range of levels, but also to be more interesting and informative for spectators.
The new series which has been created with an emphasis to be inclusive, has encouraged hundreds of riders to compete at their local agricultural and county show. The finals of the Showing Series celebrate both those who are crowned as Champions, but also recognise all the hard work displayed by the Showing community at regional shows throughout the year.
As a part of the series, the BSHA is running 'Rising Star' classes. This competition format is restricted to amateur riders and owners who have produced their own horse, giving them a unique opportunity to compete amongst their peers. The BSPS classes have a competition format based upon the performance of the pony, which can be professionally produced. Both the BSPS and the BSHA will help those who qualify for the London finals to prepare for the event by giving them advice and guidance every step of the way.
Simon Brooks-Ward, Event Director of London International Horse Show commented: "We are thrilled to be hosting the finals of this new Showing initiative at London – it is great to hear all of the amazing stories from those who have qualified, and we cannot wait to watch all of the action in the New Horizons Plastics London Arena."
To find out more stories from those who have qualified please click here, and find out the results from the qualifiers please click here.