We're looking forward to welcoming you to The Phoenix Club
Here is all the information you might need to get the most out of your hospitality experience at the London International Horse Show.
Driving and Parking at The Phoenix Club
PLEASE BE AWARE THAT ExCeL IS NOW IN THE ULTRA LOW EMISSION ZONE. YOU MAY NEED TO PAY TO ENTER THIS ZONE IF COMING BY CAR. CHECK YOUR VEHICLE REGISTRATION NUMBER HERE TO FIND OUT MORE.
Car Parking Passes for the Private Hospitality Boxes at London International Horse Show allow access to the VIP Car Park below the main arena.
If you have a Phoenix Club Parking Pass, it is for a VIP space in Orange Car Park 2. The Parking map is on the reverse of your parking pass, but is available below if you need it.
If you're arriving via the M11, the North Circular (A406) or the A13, as you get closer to ExCeL you'll pick up signs for Royal Docks, City Airport and ExCeL London. If you're using satellite navigation please enter the postcodes below.
E16 1XL – if you are travelling from the West to ExCeL from Blackwall Tunnel, Limehouse Link, A12 or Central London.
E16 1FR – if you are travelling from the East to ExCeL from the M11, A13 or into London from the east. We reccommend using the East Entrance if you can.
You can
find further information about driving to and parking at ExCeL here
.
We encourage our visitors to use public transport to visit the Show. With the advent of The Elizabeth Line whose Custom House Station is on the Show's doorstep, travel to the Show is very easy. Travel time from Reading is just over an hour and from Paddington is 22 minutes.
In addition to the Elizabeth Line, ExCeL London is connected to London Underground and London Overground by DLR (Docklands Light Railway) which is part of the London Underground network.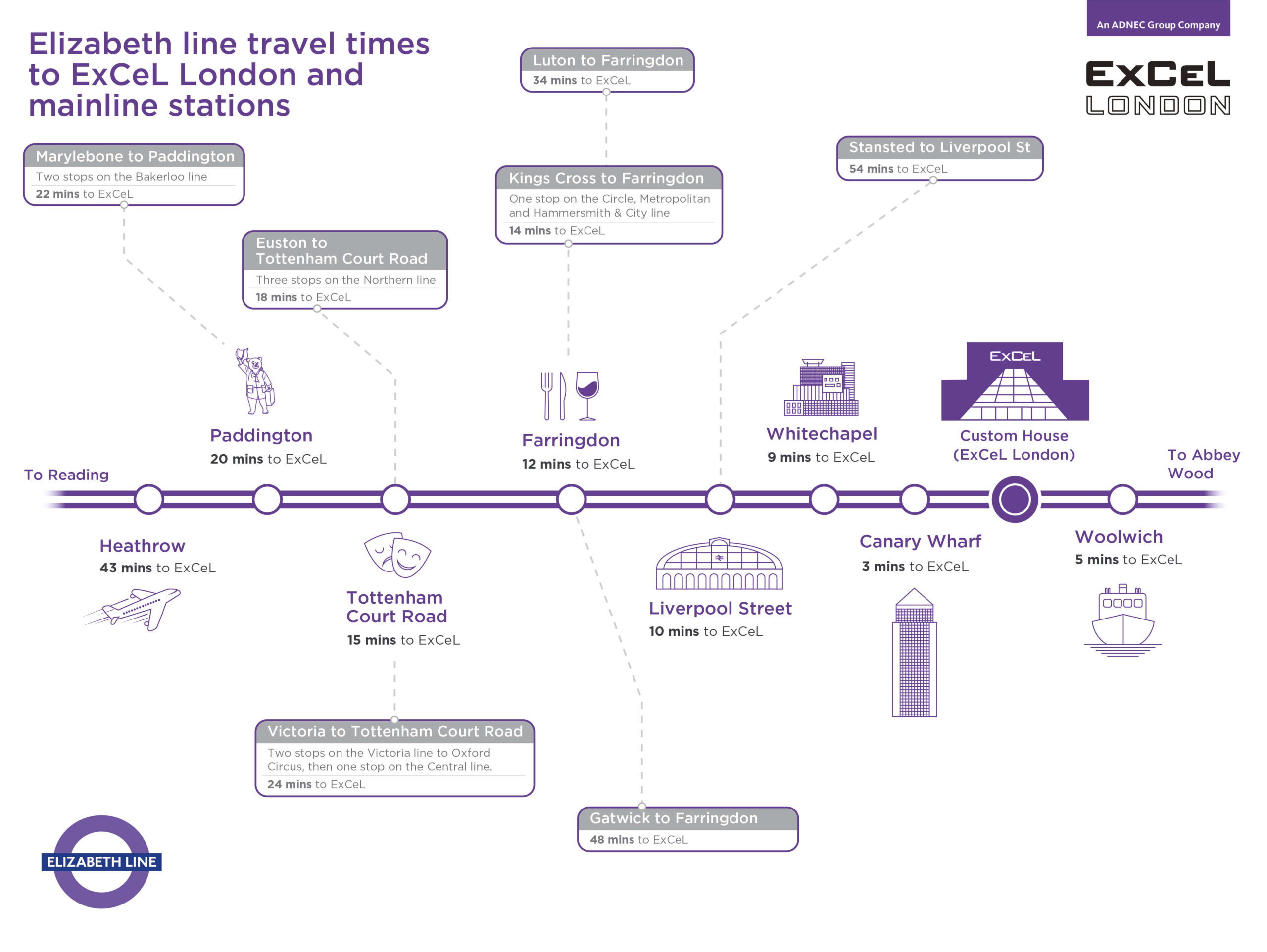 Why not take the scenic route to ExCeL London by river or cable car? If you travel by boat you can take in some of the best views of the capital's most popular landmarks including Big Ben, the London Eye, The Tower of London, St Paul's Cathedral and The 02. The route is serviced by MBNA Thames Clippers.
The UK's first urban cable car, known as the Emirates Air Line, connects ExCeL London to the 02 and North Greenwich tube station. On the cable car you can sit back, relax and enjoy stunning aerial views of London from 90m above the River Thames.
For more information on boat and cable car travel click here.
If coming from the Car Park, ascend to Ground Level and enter the Boulevard at the Main Show Entrance.
Follow the Boulevard and enter the North Hall through Entrance N5 where you will find The Phoenix Club Reception.
Your
VIP Seating Area
is shown in orange on the map below.
The Phoenix Club Opening & Closing Times
The Phoenix Club opens / closes each day as follows:
11am – 4pm for all afternoon performances 5pm – 10.45pm for all evening performances except Friday which closes at 11pm
For general Show opening times for each day, see below. For specific timings, please see the Show Programme.
Thursday 14th Dec 2023
Friday 15th Dec 2023
Saturday 16th Dec 2023
Sunday 17th Dec 2023
Monday 18th Dec 2023
Thursday 14th Dec 2023
| | |
| --- | --- |
| 08:00 | London Arena Start Time |
| 09:30 | Shopping Village Opens |
| 11:50 | International Arena Afternoon Performance Starts |
| 16:35 | International Arena Afternoon Performance Ends |
| 17:55 | London Arena End Time |
| 17:55 | International Arena Evening Performance Starts |
| 19:55 | Shopping Village Closes |
| 22:15 | International Arena Evening Performance Ends |
Friday 15th Dec 2023
Saturday 16th Dec 2023
Sunday 17th Dec 2023
Monday 18th Dec 2023
The London International Horse Show Programme
Food, Drink and Arena Seating Etiquette
As a member of Phoenix Club you will be served a meal in the Orangery during the course of the performance at a time to suit your party's requirements.
Food is not allowed into the arena seating areas at any time. Please be aware that only plastic cups or bottles are allowed into the arena; glass is not permitted.
To avoid disrupting other visitors and competitors, during competitive classes moving in and out of seating is only permitted at the beginning and end of a round.
Top Tips for Phoenix Club Guests
We very much look forward to welcoming you to The London International Horse Show. With lots of action happening, we have put together a list of top tips to help make your day as enjoyable as possible!
No visit to the London International Horse Show is complete without some serious Christmas shopping and with more than 200 stands there is plenty to choose from!
If you are looking for something specific, or have a query about your visit, make sure to visit our
Show Information Desk
. Our staff will be on hand to answer all your questions.
With amazing international displays and world-class competition, each performance offers something special.
For the full details of your performance and all timings please check out the Show programme.
At the Show we will occasionally be making announcements with important information throughout the venue by loudspeaker. Please listen out for these as they may be about last-minute timing changes or other key information.
You are free to come and go as you please to The Phoenix Club. However, please be aware of those seated around you. The seating stewards will not allow you to leave or return in the middle of a jumping round, dressage test or a display as this can disrupt other guests and the riders.
Video recording and/or flash photography is strictly prohibited in the arena whilst performances are taking place; this is for the safety of horses and riders.
Once the performance is over, our Stewards always work to ensure you can leave as quickly as you would like; please listen to their instructions.
Cloakroom and Luggage Storage
The Phoenix Club and Private Box Hospitality Guests have access to their own cloakroom where coats and small bags may be stored.
Toilets
There are VIP toilet facilities in the VIP Hospitality Reception. There are also toilet facilities throughout the halls which will be well-signposted; these include facilities suitable for those with disabilities.
Medical Facilities
You can approach any of the ExCeL team who will help you with a medical emergency or go to Level 0 on the Boulevard and down the stairs by N4/S4.
WiFi
At ExCeL there is free, fast WiFi which is suitable for browsing, social media and email. When you arrive at the venue, you just need to sign into 'ExCeL FREE Wif-Fi'.
Lost Property
ExCeL works with its property partner, NotLost, to reunite you with your lost items. If you think you've lost something at ExCeL London please compelte the form here.
We welcome disabled visitors to The London International Horse Show.
All public entrances allow for access by wheelchair via low gradient ramps and an automatic door. Once inside the venue, all floors are level offering unobstructed access.
The Phoenix Club and arena seating is fully wheelchair accessible.
Please be aware that bag searches will be in operation so we advise leaving an extra 15 minutes to enter the venue and go through security. This is for the safety of all our visitors and staff and we thank you for your understanding.