Exhibitor Parking at the Show
Everything you ever wanted to know about accessing ExCeL – and parking!
For 2023, in collaboration with ExCeL, we have overhauled the traffic systems at the London International Horse Show. There are new systems in place to make things easier, some regulations that you should know about, and clarity over what you can expect from the show.
Arriving at ExCeL for build up & dropping off
ExCeL have signed up with Voyage Control, which is an online vehicle booking system. All vehicles arriving at ExCeL must register with Voyage Control in advance, and receive a vehicle access pass, for a specific day and time, which will allow you access onto the South Lorryway without the need to go via the Traffic Office.
The system will go live at the same time as the Exhibitor Manual. You will need to create a login and password and then complete the information required. This includes the type and reg number of the vehicle, contact details and which slot you would like on your designated arrival day.
Once you have completed your booking, you will receive an electronic pass, which you can either print out or keep on your phone. You should arrive at ExCeL East entrance 15 minutes before your designated time and show the pass to the traffic marshals.
You will be given access to the South Lorryway as soon as space becomes available.
Voyage Control will be used for build-up, restocking and breakdown.
All exhibitor parking is off site, at Pudding Mill Lane, a secure site approx. 4 miles from ExCeL. At rush hour this journey takes approx. 13 minutes.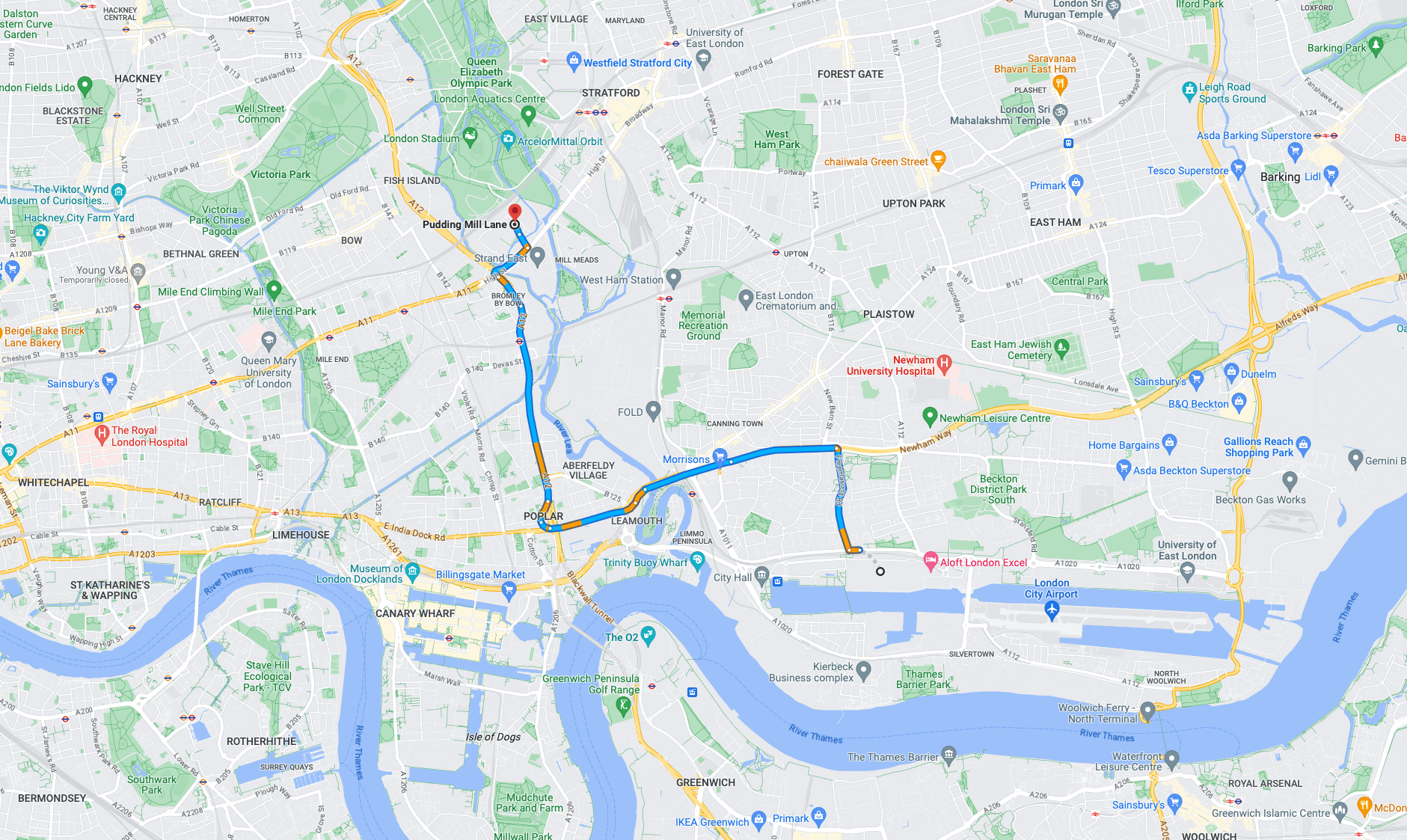 The Car Park is on hard standing, with good drainage, fenced in, with a lockable gate and 24 hr security.
Please note, there is no power and sleeping in your vehicles in Pudding Mill Lane is strictly prohibited.

The Car Park will be charged per 24hrs, and pre-booking is mandatory as there are no facilities to take payments at the car park.
Costs will not exceed:
| | |
| --- | --- |
| Cars | £25+ VAT |
| Cars with trailers, and vans up to 3.5t | £35 + VAT |
| Vehicles over 3.5t - 13.5t | £50 + VAT |
| 13.5t - 18.5t | £65 + VAT |
| 40ft or Artic | £80 + VAT |
Shuttles will be available 3 times per day if you need to go back to your vehicle or bring it in for re-stocking.
Alternatively, you can use the DLR to get to and from Pudding Mill Lane. Either going to Canary Wharf and changing DLR lines, or tracking back to Whitechapel on the Elizabeth Line and taking a Stratford Train, and then changing onto the DLR and going one stop back to Pudding Mill Lane. It sounds complicated, but can take as little as 15 minutes.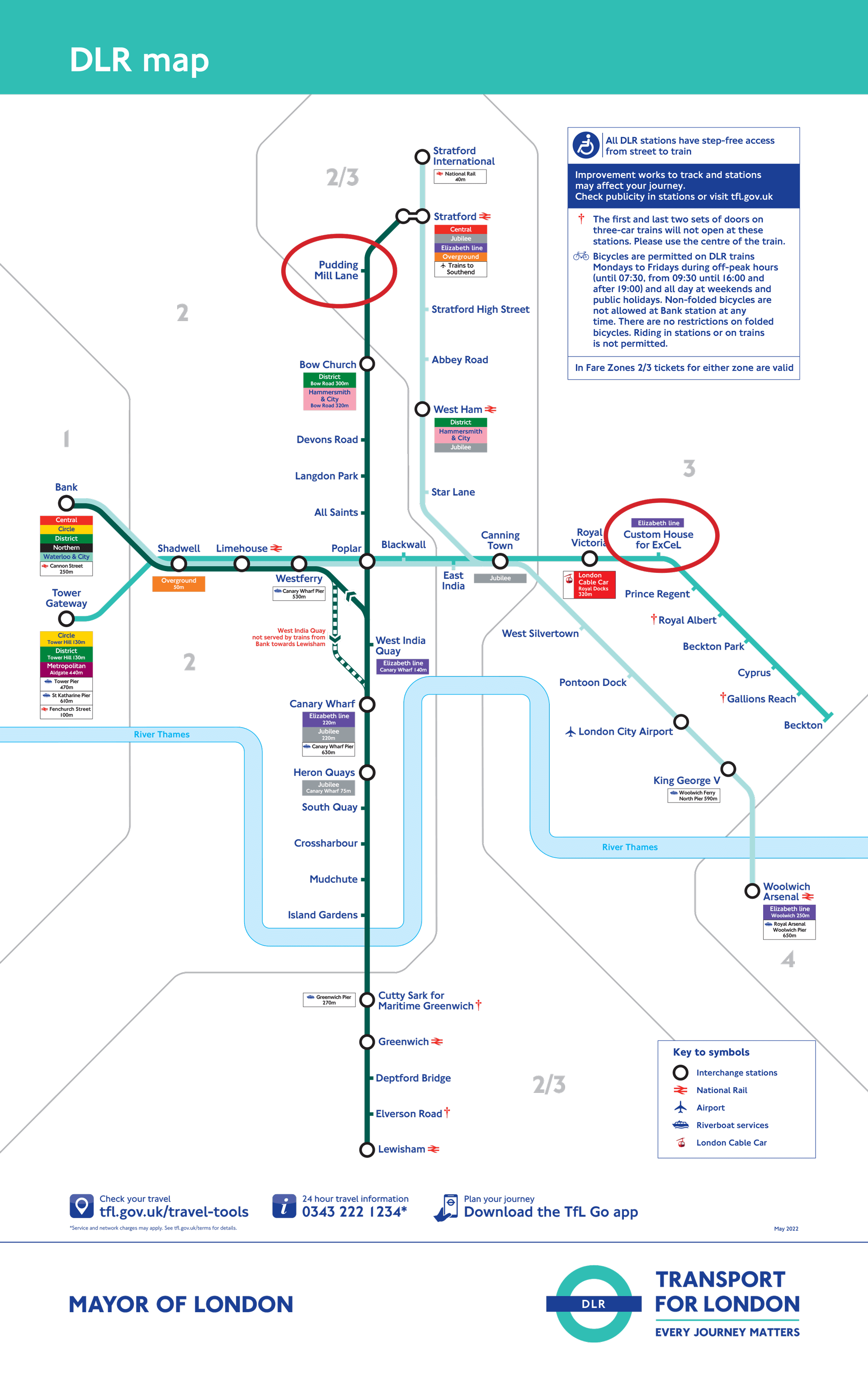 Restocking takes places daily from 07:00 – 09:00. You will need to book your restocking slot on Voyage Control.
Breakdown is split into 2 phases.
Phase 1
Monday 18th from 21:30 – 23:00hrs.
All vehicles must be off site by 23:00hrs.
There is no room for flexibility in these timings. You will be asked which phase you wish to be in, and we will then assess whether or not we think you can meet this deadline. If not, we may move you to Phase 2.
Phase 2
Tuesday 19th from 05:00 – 12:30hrs
Once we have agreed your phase with you, you will need to book your collection slot on Voyage Control.
There will be an opportunity to clear your storage boxes during the day, although there is no parking up area in the halls this year.
Free of charge porters are available on a first come first served basis through the Shopping Village Organisers' Office. Dedicated Porters are available during build up and breakdown at an additional cost.
There are a number of 3m x 3m storage boxes available for you to book. Storage areas are located at each end of the Shopping Village at a cost of £175 + VAT per 3m x 3m. There will a small amount of free of charge communal storage available.
There are a number of restrictions on vehicles driving within the M25. Please note ExCeL is not in the Congestion Charging Zone.
London Ultra Low Emission Zone
The Ultra Low Emission Zone (ULEZ) operates 24 hours a day, 7 days a week, every day of the year, except Christmas Day (25 December). The zone covers all areas within the M25.
If you do not meet the standard you must pay a £12.50 daily charge to drive inside the zone.
This includes:
Cars, motorcycles, vans and specialist vehicles (up to and including 3.5 tonnes) and minibuses (up to and including 5 tonnes)
Residents of the Congestion Charge area (the 100% discount of the daily ULEZ charge has ended).
Lorries, vans or specialist heavy vehicles (over 3.5 tonnes) and buses, minibuses and coaches (over 5 tonnes) do not need to pay the ULEZ charge. But they will need to pay the LEZ charge if they do not meet the LEZ emissions standard.
To find out what charges you may need to pay please click here and enter your vehicle registration.
ExCel is also within the Direct Vision Standard Zone. The Direct Vision Standard (DVS) and safety permit for heavy goods vehicles (HGVs) requires operators of lorries over 12 tonnes gross vehicle weight to obtain a safety permit before entering and operating in most of Greater London.
If your vehicle does not comply you may receive a substantial fine.
As a guide, Direct Vision Standard compliance costs around £1500 + VAT.
Delivery Service
If your vehicle is affected by the ULEZ or DVS (or even if it is not) you may wish to investigate getting your goods delivered & collected by DSV our official freight forwarding contractor. DSV are able to collect your stand dressings and goods and will deliver them to your stand/storeroom. They are also able to return items to your premises. Please contact Carla Cook on 0121 780 2627 or carla.cook@dsv.com for a quote.
You are allocated a set number of wristbands according to stand size:
| | |
| --- | --- |
| Up to 9m2 | 4 wristbands |
| Up to 12m2 | 6 wristbands |
| Up to 20m2 | 8 wristbands |
| Over 20m2 | 10 wristbands |
Please note that wristbands do not give you any access to the International Arena or London Arena.