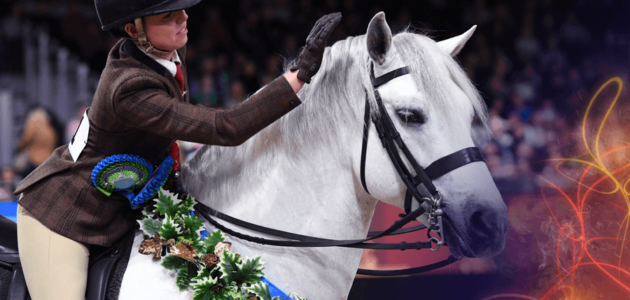 Showing
Showing at London International Horse Show has grown in 2023. This year we introduce the new London International Showing Series which will take place in the New Horizon Plastics London Arena from Thursday 14th to Monday 18th December. Qualifiers have taken place throughout the country to bring finalists to these exciting new classes.
In addition, the Show runs two established showing finals in the International Arena – The BSPS Ridden Mountain and Moorland Championships on Monday 18th December and the Senior Showing and Dressage Championships on Saturday 16th December.
For more information check our timetable.
Showing Times
(35)
THURSDAY – 14th

08.50 – 10.15

Rising Star Small & Lightweight Hunter Type sponsored by Irish Horse Board Co-operative Ltd

THURSDAY – 14th

10.15 – 11.40

Rising Star Middleweight & Heavyweight Hunter Type sponsored by Irish Horse Board Co-operative Ltd

THURSDAY – 14th

11.40 – 11.55

Rising Star Hunter Type Championship sponsored by Irish Horse Board Co-operative Ltd

THURSDAY – 14th

12.40 – 13.50

Rising Star Lightweight Cob Type

THURSDAY – 14th

13.50 – 14.30

Rising Star Heavyweight Cob Type

THURSDAY – 14th

14.30 – 15.30

Rising Star Maxi Cob Type

THURSDAY – 14th

16.15 – 16.30

Rising Star Cob Type Championship

FRIDAY – 15th

09.50 – 10.45

Rising Star of Small Riding Horse Type

FRIDAY – 15th

11.45 – 13.00

Rising Star of Large Riding Horse Type

FRIDAY – 15th

13.00 – 13.15

Rising Star of Riding Horses Type Championship

FRIDAY – 15th

13.15 – 14.25

Rising Star Racehorse to Show Horse

FRIDAY – 15th

14.25 – 15.25

Rising Star of Hack Type Championship

SATURDAY – 16th

08.20 – 08.50

Build & Walk

SATURDAY – 16th

08.25 – 10.05

The London International Horse Show SSADL Grand Final sponsored by Agria

SATURDAY – 16th

08.50 – 10.25

Rising Star Working Show Horse sponsored by Mr and Mrs Phil Swallow

SATURDAY – 16th

10.25 – 10.55

Alter & Walk

SATURDAY – 16th

10.55 – 12.25

Rising Star of Working Hunter Type sponsored by Mr and Mrs Phil Swallow

SATURDAY – 16th

12.25 – 12.40

Rising Star Workers Championship sponsored by Mr and Mrs Phil Swallow

SATURDAY – 16th

14.35 – 15.35

Rising Star Ladies Show Horse

SUNDAY – 17th

08.40 – 09.55

New Horizon Plastics BSPS Performance Coloured Native/Cob/Traditional Horse/Pony Class

SUNDAY – 17th

09.55 – 11.05

New Horizon Plastics BSPS Performance Coloured Non-Native Horse/Pony Class

SUNDAY – 17th

12.05 – 12.20

The New Horizon Plastics BSPS Performance Coloured Championship

SUNDAY – 17th

12.20 – 12.45

Build & Walk

SUNDAY – 17th

12.45 – 14.10

Open Cradle Stakes Class

SUNDAY – 17th

14.10 – 14.35

Alter & Walk

SUNDAY – 17th

14.35 – 16.05

Open Nursery Stakes Class

SUNDAY – 17th

16.05 – 16.20

Worker Stakes Championship

MONDAY – 18th

08.40 – 10.45

The BSPS Ridden Mountain and Moorland Championships

MONDAY – 18th

09.05 – 09.30

Build & Walk

MONDAY – 18th

09.30 – 10.55

BSPS Heritage Lead Rein Working Sports Pony sponsored by Simpson Refractories Ltd

MONDAY – 18th

12.35 – 13.40

BSPS Junior Performance Pony

MONDAY – 18th

13.35 – 13.50

The BSPS Ridden Mountain and Moorland Championship Final sponsored by New Horizon Plastics

MONDAY – 18th

13.40 – 14.35

BSPS Performance Pony not exc 148cm

MONDAY – 18th

14.35 – 15.30

BSPS Performance Pony not exc 158cm

MONDAY – 18th

15.30 – 15.45

BSPS Performance Pony Championship